Best Pest Control Services in Manila City
WHY TRUST US & OUR SERVICES?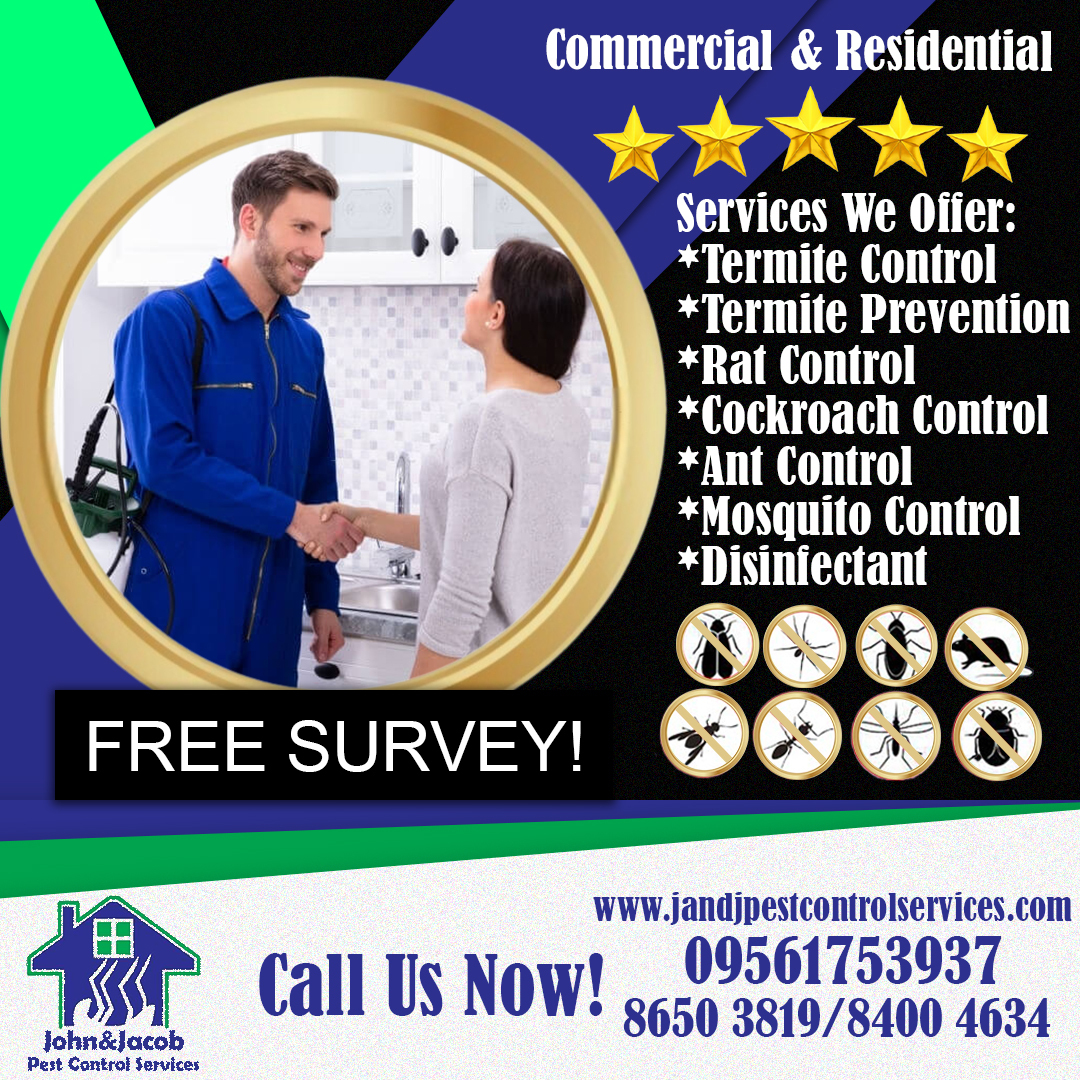 MANILA PEST CONTROL COMPANY
John & Jacob Pest Control Services is the most trusted and reliable company that will meet your pest control needs. We assure to provide up-to-date and advanced services.
Our company is always true to its goal of providing a safe and protected environment to every home and business property.
HOW WE DELIVER OUR SERVICES?
As property maintenance evolves and requires an enhanced level, John&Jacob Pest Control Services assures home and business owner feels that their properties are safe to live in.
We offer services that fit right on your every need like pest control and disinfection. We provide enhanced hygienic disinfection services and safe products that ensure the safety of humans, pets, and the environment.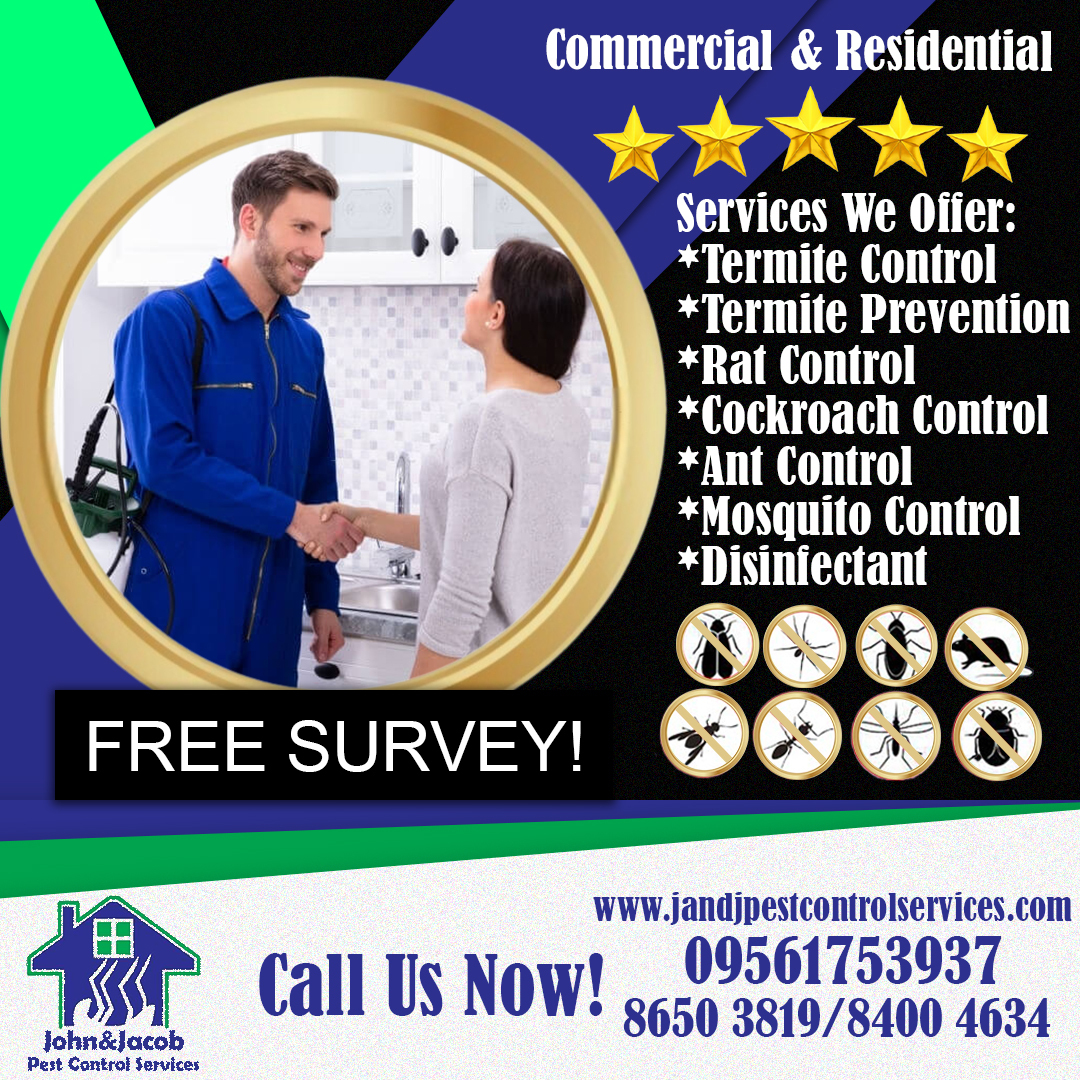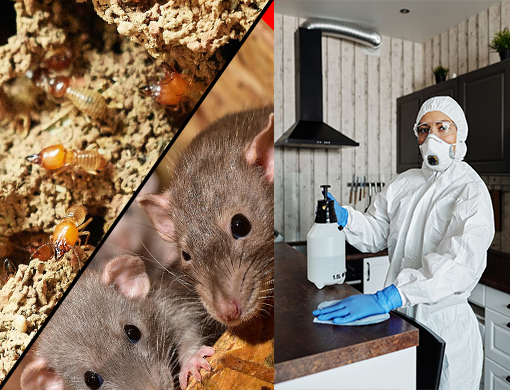 QUALITY & EXCELLENT SERVICE
Experience our extraordinary service at its best.
Aside from pest control services, we also do Termite Reticulation Systems for Pre Constructions Buildings or Houses. With this, we ensure to provide an ongoing form of protection against termites.
EXPERIENCE THE JOHN & JACOB PEST CONTROL SERVICES DIFFERENCE
JOHN & JACOB PEST CONTROL SERVICES in MANILA CITY
Monday ……………… 9am – 6:30pm
Tuesday …………….. 9am – 6:30pm
Wednesday ………. 9am – 6:30pm
Thursday ……………. 9am – 6:30pm
Friday …………………. 9am – 6:30pm
JOHN & JACOB PEST CONTROL SERVICES in MANILA CITY
Pest control services in MANILA City, Metro Manila, are essential for maintaining a healthy and safe environment in homes and businesses. That's why John and Jacob Pest Control Services are here to help. Our team of experienced technicians uses the latest technology and methods to effectively eliminate pests such as termites, ants, cockroaches, mice, and more. We understand the unique needs of our customers and tailor our services to meet those needs. Trust us to protect your property and health from harmful pests. Contact us today for a free consultation and let us help you take back control of your space!
SUBMIT THE FORM BELOW FOR A FREE CONSULTATION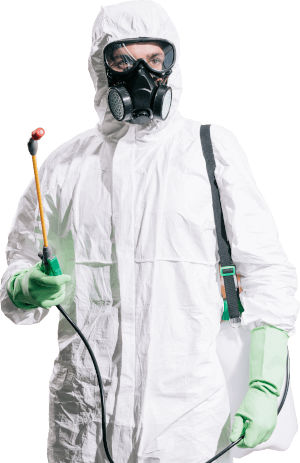 DON'T HESITATE TO CONTACT US
ANY TIME.