Angat, Bulacan Pest Control Services
OUR PEST CONTROL SERVICES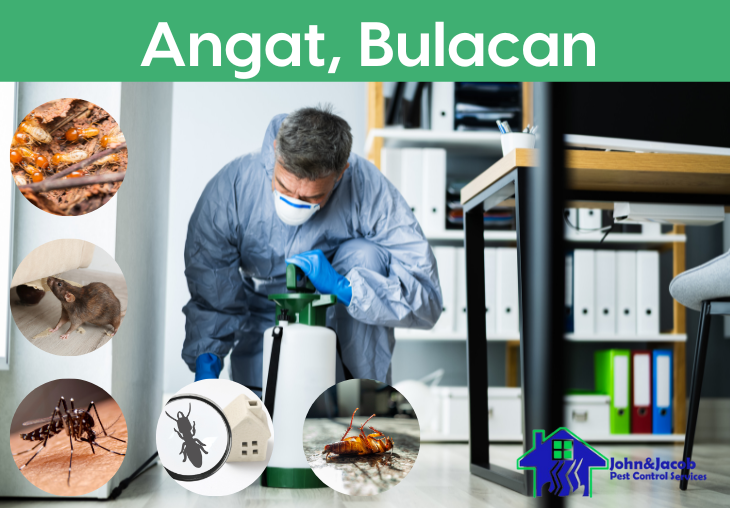 Pest Control Services Angat, Bulacan
Have you encountered situations where pests have caused significant damage to your property? This is a serious matter, which is why the utilization of Pest Control Services in Angat, Bulacan, becomes crucial.
It's hard to find a property owner who wouldn't prioritize safeguarding their homes and the overall welfare of their loved ones.
Eliminating pests is a challenging task. If you're contemplating a do-it-yourself approach, you might inadvertently worsen the issues instead of resolving them effectively.
Pest management typically involves the use of potent chemicals that can pose risks to your health and that of your pets.
In the Philippines, we often display a high tolerance for cockroaches and ants, often allowing them to coexist with us.
Unfortunately, many of us fail to recognize the potential dangers they pose to our health and well-being.
Procrastinating until the situation spirals out of control isn't advisable.
Enlisting the services of a professional pest control contractor is the swiftest and most secure method to address your infestation predicament.
Benefits of Professional Pest Control
Our dwelling serves as a revered haven for many, a space where relaxation and bonding with family occur. To uphold this serene environment within our home, it is imperative to ensure it remains free from pests.
Listed below are the advantages of eliminating these unsettling creatures.
Precise Identification for Pest Management
Addressing a pest infestation requires a comprehensive understanding of the underlying issue. Different pests may demand various remedies and bait.
Professional pest control specialists initially ascertain the specific type of infestation to determine the most effective approach. Queries concerning safety measures for pets and children during property treatment can also be addressed.
Resolving the Root Cause of Pest Control
People often delay finding a solution until it's no longer viable. Many DIY strategies fall short of providing a lasting fix.
To truly conquer a pest infestation, one must uncover its source. The mere removal of visible pests provides only temporary relief; the problem tends to resurface shortly.
Professional contractors seek out potential causes like water leaks that may contribute to the infestation, tackling them as part of the process.
Effective Pest Management
Do bed bugs or rats keep you awake at night? Resolving this issue is a mere phone call away.
Pests such as cockroaches and mice can establish nests within your home, eventually expanding their presence.
Eradicating these unwelcome intruders is paramount to prevent property damage and safeguard family health.
At John and Jacob Pest Control Services, we stand ready to address all your pest-related concerns. Our skilled experts are well-versed in proper pesticide handling, avoiding the excess use of harmful chemicals common with DIY attempts.
Given the potential harm to pets and children, entrusting pest control to professionals is essential. Our specialists apply pesticides only when necessary, while also sharing insights on how to prevent future infestations.
Long-term Savings
Imagine having more time to spend with loved ones over weekends.
DIY pest control efforts can be demanding. For some, identifying the issue poses a challenge, leading to confusion on where to begin.
Procuring traps, insecticides, and hazardous substances becomes a necessity, not to mention the task of managing the aftermath of pest-related debris.
A failed DIY remedy could end up costing more in the long run.
Professional pest control services can resolve the issue in a single session, saving you both time and money. We ensure a thorough cleanup post-treatment, maintaining hygienic conditions.
Our services extend to commercial establishments in addition to residential settings.
Eliminating Health Concerns
Eradicating pest problems guarantees the health and safety of your family.
Pests are known carriers of diseases; without proper intervention, they can transmit serious illnesses through bites and waste.
For instance, cockroaches can trigger asthma attacks in children and carry numerous pathogens. Diseases like dengue and malaria pose severe risks, necessitating immediate infestation eradication.
Meanwhile, bites from ticks, fleas, bed bugs, and spiders result in itchy marks until the infestation is addressed.
The peace of mind that follows resolving a pest issue is invaluable.
When was the last time you enjoyed uninterrupted sleep?
Opting for professional pest control services in Angat, Bulacan is undoubtedly the optimal solution when faced with any form of infestation.
Reliable Pest Control Experts in Angat, Bulacan is All You Need
If attempts with store-bought products have not successfully eliminated pests, you might be dealing with a pest infestation at your residence.
The most effective approach when faced with a pest infestation is to rely on skilled and licensed professionals.
It's important not to delay addressing the issue, as it could jeopardize your family's well-being and the integrity of your property.
At John and Jacob Pest Control Services, we recognize that a one-size-fits-all solution doesn't work for pest infestations.
We take your specific circumstances into account before devising the optimal strategy.
Utilizing the latest techniques and equipment in the field, our team ensures top-quality service delivery.
Allow us to swiftly and effectively handle your issue; we ensure exceptional service and rapid outcomes.
For those seeking a pest-free living environment and a healthier, cleaner surroundings, don't hesitate to arrange an appointment with us today.
Plan a thorough assessment at your location so that we can offer the finest pest control services in Angat, Bulacan tailored to your needs.
Feel free to contact us or reach out through our website messaging system.
ANGAT, BULACAN NEIGHBORHOODS
DON'T HESITATE TO CONTACT US
ANY TIME.