San Rafael, Bulacan Pest Control Services
OUR PEST CONTROL SERVICES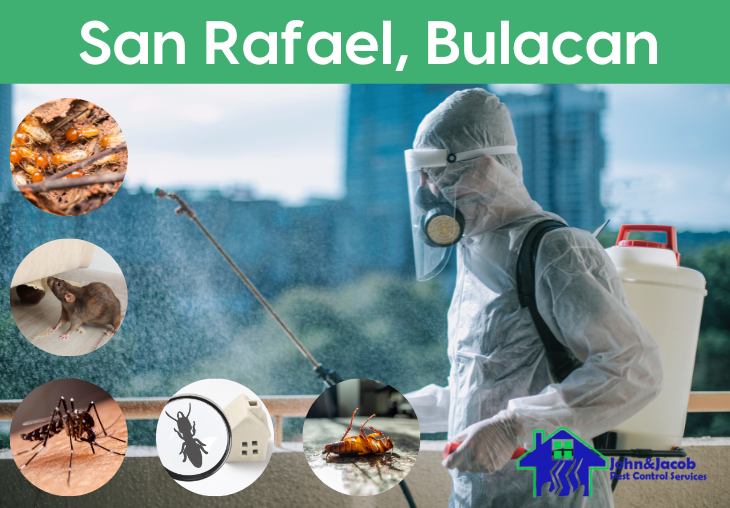 Pest Control Services San Rafael, Bulacan
Have you experienced the detrimental effects of pests on your residential or commercial property previously? This is a grave concern, which is why it's worth considering utilizing the offerings of Pest Control Services San Rafael, Bulacan.
It's unlikely that any property owner would disregard the importance of protecting their residences and the overall health of their family members.
Confronting pest invasions can be a rather daunting task. If you're entertaining the idea of a DIY approach, you could unintentionally worsen the situation instead of effectively resolving it.
The management of pests often involves potent chemicals that have the potential to compromise your well-being as well as that of your pets.
In the context of the Philippines, we typically have a higher tolerance for cockroaches and ants, often permitting them to coexist in our living spaces.
Regrettably, many of us fail to recognize that these pests can actually pose significant hazards to our health and overall well-being.
It's advisable not to procrastinate until the problem becomes uncontrollable.
Opting for the services of a skilled pest control professional is not only the swiftest but also the safest approach to dealing with your infestation issue.
Advantages of Professional Pest Control
Our residence functions as a sacred sanctuary for numerous individuals, offering a place for relaxation and connecting with family members. Maintaining this tranquil atmosphere at home requires keeping it free from pests. The following outlines the advantages of eliminating these unsettling spiders.
Accurate Pest Management Identification
Prior to addressing a pest infestation, it is essential to accurately identify the root cause. Different pests may necessitate various treatments and baits to effectively tackle the issue. Competent pest control professionals first identify the type of infestation, allowing them to formulate the most effective plan. Moreover, you can inquire about the safety of pets and children during the treatment process.
Dealing with the Core of Pest Control
Frequently, people wait until a problem worsens before taking action. Many do-it-yourself methods fail to provide lasting solutions. To truly eradicate a pest infestation, the underlying cause must be addressed. Simply eliminating visible pests provides temporary relief, as they tend to reappear shortly after. Skilled contractors search for underlying issues, like water leaks, that might be contributing to the infestation and incorporate these findings into their approach.
Efficient Pest Management
Are pests such as bedbugs or rodents causing sleepless nights in your home? A solution is just a call away. Pests like mice and cockroaches can establish nests in your residence, gradually overtaking your property. Eliminating these unwanted intruders is vital, as they can damage your home and endanger your family's health.
At John and Jacob Pest Control Services, we are ready to address all your pest-related concerns. Our well-trained experts have the knowledge to handle chemicals appropriately. Excessive use of dangerous chemicals is a risk when attempting DIY solutions. Chemicals can be harmful to both pets and children, necessitating professional intervention. Our pest control experts only use chemicals when necessary. Additionally, we educate you on the problem-solving process and offer tips for preventing future pest issues, increasing the chances of long-term success.
Saves Time and Money
Wouldn't it be wonderful to have more quality time to spend with loved ones on weekends? DIY pest control can be a challenging task, starting with identifying the issue. Purchasing traps, insecticides, and potentially hazardous chemicals is just the initial step to rid your home of disease-carrying pests. Alongside dealing with harmful substances, you also need to manage the aftermath of pest-related debris.
A mismanaged DIY solution can lead to higher expenses in the future. Enlisting a professional pest control company can efficiently resolve the problem in a single session, saving both time and money. Our team ensures thorough cleaning after treatment, maintaining proper hygiene. Our services extend beyond residential properties to commercial facilities as well.
Eliminating Health Concerns
Eliminating pest problems guarantees the health and safety of your family. Pests are known carriers of diseases, and without prompt intervention, they can transmit serious illnesses through bites and waste. For example, cockroaches can trigger asthma attacks in children and spread various viruses and germs. Diseases like dengue and malaria pose significant risks, highlighting the importance of swift infestation elimination. Furthermore, bites from ticks, fleas, bed bugs, and spiders can result in itchy marks until the infestation is eradicated. The peace of mind that comes with resolving a pest issue is invaluable. When was the last time you enjoyed uninterrupted sleep throughout the night?
For any pest issue, investing in pest control services in San Rafael, Bulacan is undoubtedly the optimal choice.
Reliable Pest Control Experts in San Rafael, Bulacan is All You Need
If you've tried using store-bought products to get rid of pests but they're still around, you might be dealing with a pest infestation in your home.
The best way to handle a pest infestation is to get help from professionals who are trained and licensed.
Don't wait until your family's health is at risk or your property is damaged.
At John & Jacob Pest Control Services, we know that there's no one-size-fits-all solution for pest infestations because each situation is unique.
Before coming up with a plan, we consider your specific circumstances.
Our team uses the latest methods and equipment to provide high-quality service to our clients.
Let us quickly and effectively take care of your problem. We promise great service and fast results.
For a pest-free home and a cleaner, healthier environment, schedule an appointment with us today.
Set up an in-person evaluation so we can provide the best pest control services in San Rafael, Bulacan that are tailored to what you need.
Feel free to get in touch with us or send a message through our website.
SAN RAFAEL, BULACAN NEIGHBORHOODS
San Agustin, Sampaloc, San Roque, Poblacion, Pulo, Capihan, Pasong Callos, Maronquillo, Sapang Pahalang, Cruz na Daan, Banca-banca, BMA-Balagtas, Diliman II, Pulong Bayabas, Tukod, Salapungan, Lico, Diliman I, Ulingao, Dagat-dagatan, Pinacpinacan, Tambubong, Libis, Caingin, Talacsan, Pasong Intsik, Pansumaloc, Maasim, Maguinao, Pantubig, Coral na Bato, Pasong Bangkal
DON'T HESITATE TO CONTACT US
ANY TIME.