Paombong, Bulacan Pest Control Services
OUR PEST CONTROL SERVICES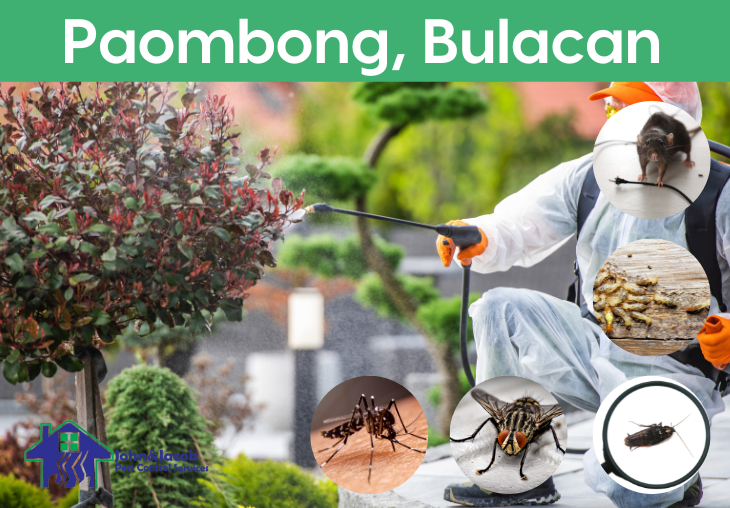 Pest Control Services Paombong, Bulacan
Have you ever experienced the damaging consequences of pests in your home? This is a significant problem, highlighting the importance of Pest Control Services in Paombong, Bulacan.
It's challenging to imagine any homeowner who wouldn't prioritize the protection of their homes and the well-being of their family.
Getting rid of pests is not an easy task; attempting a DIY approach could worsen the situation rather than effectively solving it.
Pest management often involves using strong chemicals that could negatively affect both your health and that of your pets.
In the Philippines context, we often tolerate cockroaches and ants to a certain extent, sometimes allowing them to coexist without much worry.
However, what many of us fail to realize is that they can actually pose significant dangers to our health and overall wellness.
Delaying until the problem becomes uncontrollable is not recommended.
Hiring a professional pest control service is the quickest and safest way to address your infestation problem.
Benefits of Professional Pest Control
Our residence is a revered haven for many, offering repose and leisure to families. Maintaining this tranquil environment requires keeping it free from pests. Here are the benefits of getting rid of unsettling spiders:
Accurate Pest Management Identification:
Before addressing a pest problem, identifying its root cause is crucial. Different pests may require distinct remedies and baits. Competent pest control professionals first analyze the infestation's nature to determine the best approach. You can also inquire about safety concerns for pets and children during property treatment.
Resolving Pest Control Issues at the Source:
People often delay action until a solution is no longer viable. Many DIY methods fail to provide lasting results. To truly combat a pest infestation, it's essential to trace the problem back to its source. Simply eliminating visible pests offers temporary relief, as the issue is likely to return. Skilled providers identify underlying problems like water leaks contributing to the infestation and address them.
Effective Pest Management:
Are pests causing sleepless nights? The solution is just a phone call away. Pests like mice and cockroaches can take over your home and pose risks to your family's health and property. Eradicating them is crucial. At John and Jacob Pest Control Services, our experts handle chemicals properly and only as needed. Entrust this situation to professionals, as pesticides can harm pets and children.
Saving Time and Money:
Wouldn't you prefer spending weekends with loved ones instead of dealing with pests? DIY pest control can be overwhelming. Identifying the problem and buying traps, insecticides, and chemicals is time-consuming. Handling toxic substances and cleaning up after pests adds to the challenge. Professionals can swiftly resolve the issue in one session, saving time and money.
Eliminating Health Concerns:
Removing pests ensures your family's safety. Pests carry diseases and can transmit them through bites and droppings. Cockroaches trigger asthma attacks in children and harbor viruses. Life-threatening diseases like dengue and malaria highlight the need for prompt intervention. Pest bites cause discomfort until the issue is resolved.
Enjoy uninterrupted sleep by opting for pest control services in Paombong, Bulacan. It's the optimal solution for any pest-related issues you're facing.
Reliable Pest Control Experts in Paombong, Bulacan All You Need
If you've tried using off-the-shelf products to get rid of pests without success, there's a possibility that your property is being impacted by a pest infestation.
The best way to deal with a pest infestation problem is to enlist the services of skilled and licensed professionals.
It's important not to wait until the health of your family and the condition of your property are at risk.
At John and Jacob Pest Control Services, we understand that there isn't a one-size-fits-all solution for pest infestations, as each situation is unique.
We carefully evaluate your individual circumstances before determining the most appropriate solution.
Our team employs the latest methods and tools in the field to ensure top-notch service quality for our clients.
Let us promptly and effectively manage your problem; we guarantee outstanding services and quick results.
For those in search of a pest-free environment and the advantages of a clean and sanitary setting, schedule an appointment with us today.
Make use of our complimentary on-site assessment, enabling us to provide the best pest control answers in Paombong, Bulacan tailored to your requirements.
Feel free to get in touch with us or reach out through our website's messaging platform.
PAOMBONG, BULACAN NEIGHBORHOODS
DON'T HESITATE TO CONTACT US
ANY TIME.