Hagonoy, Bulacan Pest Control Services
OUR PEST CONTROL SERVICES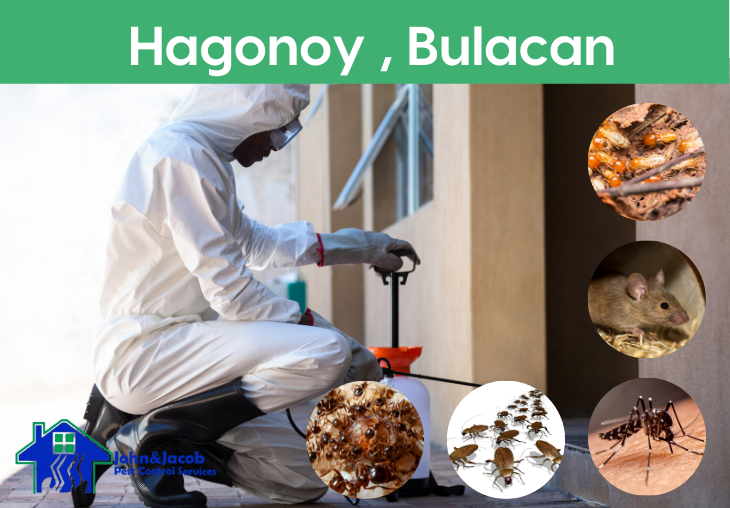 Pest Control Services Hagonoy, Bulacan
Have you ever faced situations where pests have inflicted significant harm to your property? This is a grave concern, which underscores the importance of utilizing Pest Control Services in Hagonoy, Bulacan.
It's uncommon to find a property owner who wouldn't give top priority to protecting their homes and the overall welfare of their family members.
Getting rid of pests is a formidable undertaking. If you're considering handling it yourself, you might unintentionally exacerbate the problems rather than effectively resolving them.
Pest management commonly entails the application of potent chemicals that can jeopardize your health and that of your pets.
In the Philippines, we frequently demonstrate a high tolerance for cockroaches and ants, often permitting them to share our living spaces.
Regrettably, many of us neglect to acknowledge the potential hazards they pose to our health and general well-being.
Delaying action until the situation becomes uncontrollable is not advisable.
Seeking the assistance of a professional pest control provider is the quickest and most reliable approach to tackle your infestation issue.
Benefits of Professional Pest Control
Our residence functions as a cherished sanctuary for many, a place where relaxation and family bonding take place. To maintain this tranquil atmosphere within our home, it is essential to ensure it remains pest-free.
Outlined below are the benefits of eliminating these disturbing creatures.
Accurate Identification for Pest Management
Dealing with a pest infestation requires a thorough understanding of the underlying problem. Different pests may require different treatments and bait.
Expert pest control professionals first determine the specific type of infestation to devise the most effective strategy. Concerns regarding safety measures for pets and children during property treatment can also be addressed.
Addressing the Root Cause of Pest Control
People often postpone finding a solution until it's no longer feasible. Many do-it-yourself methods fall short of providing a lasting solution.
To truly overcome a pest infestation, one must uncover its source. Simply removing visible pests offers only temporary relief; the issue tends to resurface shortly.
Professional contractors identify potential causes like water leaks that might contribute to the infestation, dealing with them as part of the process.
Efficient Pest Management
Are bed bugs or rats causing sleepless nights? Resolving this problem is just a phone call away.
Pests like cockroaches and mice can establish nests within your home, gradually expanding their presence.
Getting rid of these unwelcome intruders is crucial to prevent property damage and protect family health.
At John and Jacob Pest Control Services, we are prepared to address all your pest-related worries. Our knowledgeable experts are skilled in proper pesticide usage, avoiding excessive reliance on harmful chemicals common in DIY attempts.
Given the potential risks to pets and children, entrusting pest control to professionals is vital. Our specialists use pesticides only when necessary, while also providing insights on preventing future infestations.
Long-Term Cost Savings
Imagine having more quality time with loved ones during weekends.
DIY pest control efforts can be demanding. For some, identifying the issue becomes a challenge, leading to uncertainty about where to start.
Procuring traps, insecticides, and hazardous substances becomes necessary, not to mention dealing with the aftermath of pest-related mess.
A failed DIY solution could end up being more costly in the long run.
Professional pest control services can resolve the problem in a single session, saving you both time and money. We ensure a thorough cleanup after treatment, maintaining hygienic conditions.
Our services extend to commercial establishments as well as residential settings.
Eliminating Health Concerns
Getting rid of pest problems ensures the health and safety of your family.
Pests are carriers of diseases; without proper intervention, they can transmit serious illnesses through bites and waste.
For example, cockroaches can trigger asthma attacks in children and carry numerous pathogens. Diseases like dengue and malaria pose significant risks, underscoring the need for immediate infestation eradication.
Meanwhile, bites from ticks, fleas, bed bugs, and spiders lead to itchy marks until the infestation is dealt with.
The peace of mind that follows resolving a pest issue is priceless.
When was the last time you experienced uninterrupted sleep?
Opting for professional pest control services in Hagonoy, Bulacan is undoubtedly the best solution when facing any type of infestation.
Reliable Pest Control Experts in Hagonoy, Bulacan is All You Need
If your attempts with off-the-shelf products haven't successfully eradicated pests, it's possible that you are facing a pest infestation in your home.
When dealing with a pest infestation, the most efficient course of action is to trust trained and licensed professionals.
Addressing this problem promptly is crucial, as it could endanger the well-being of your family and the structural integrity of your property.
At John and Jacob Pest Control Services, we understand that a standardized solution isn't effective for all pest infestations.
Before creating the best plan of action, we consider your unique circumstances.
Using the latest methods and equipment in the field, our team guarantees high-quality service.
Allow us to quickly and effectively manage your problem; we promise outstanding service and swift results.
For those in search of a home free from pests and a healthier, cleaner environment, don't hesitate to schedule an appointment with us today.
Arrange a comprehensive assessment at your location so that we can provide the finest pest control services in Hagonoy, Bulacan, tailored to your requirements.
Feel free to get in touch with us or contact us through our website messaging system.
HAGONOY, BULACAN NEIGHBORHOODS
DON'T HESITATE TO CONTACT US
ANY TIME.