If you intend to prevent damage to your house's structure, Termite Control Manila City, MM should be among your priorities.
Termites is the first of many destructive pests in the world. There have been plenty of buildings and structures that have been damaged by these pests which has caused big financial losses for owners. Right here in the Philippines, around 90% of property damage is caused by termites, that makes them the primary enemy of property owners. You've invested a huge amount of cash in constructing your residential or commercial property so you just can not sit back and watch termites destroy what you've worked hard for. When it comes to termite infestation, you need to rely on the professionals for the best termite control solutions for your specific needs.
What are the Types of Termites Found in the Philippines?
We have high moisture in the country which is one of the factors why we are prone to termite problem.
Homeowner around the Philippines have encountered termite issues which is why termite control Manila City, MM is a must for all homeowner. Immediate action is required as soon as you suspect a termite infestation because termites can do lots of damages quickly and you might not even know that they exist.
Carrying out a Do It Yourself option is out of the question in this scenario due to the fact that the structural stability of your residential or commercial property is at stake. This circumstance is different from a roach problem where a Do It Yourself option might work in fixing the scenario.
There are 4 types of termites that thrive in the Philippines.
Philippine Milk Termite
One of the most destructive kinds of termites since they will consume anything in their path that contains cellulose.

Cellulose is an organic compound found in dead trees, plants and wood. Their workers are white in color while their soldiers release a white material called latex. They can nest in wet wood and they can be located throughout the country. This kind is accountable for over 90% of termite damages to wood structures in Metro Manila and other urban cities.
Micro Los Baños Termite
These termites are light colored and their soldiers can be misinterpreted for larvae of beetles or other bugs to the inexperienced eye. They have a long rectangle-shaped head with horn-like mandibles which makes it quicker for them to eat their food.
Macro Termite
This kind of termites construct mounds which are usually called "punso" in the provinces. They can be located in your yard and are considered a large termite species. A common kind found not only in the Philippines but in other nations as well. They delight in softer parts of the wood while leaving the harder portions undamaged.
Luzon Point Head Termite
Dark colored with a pointed head shape, this type of termites create narrow mud tubes unlike all other types found in the nation. Soldiers have no mandibles and they like to feed wood sap.
Do You Have a Termite Infestation?
Here are ways to recognize a termite invasion in your home. You start with your attic, fuse boxes and all of your houses' cracks and joints.
Mud Tubes As we pointed out above, the Luzon point head termite loves to create their own "expressways" by building mud tubes to connect the wood they eat to the soil.
These tubes are as large as a ballpeen and spotting them might indicate that you have an invasion in your hands. If you fail to detect live termites in the mud tubes does not mean that you run out the timbers. Call your termite specialist to perform an assessment immediately.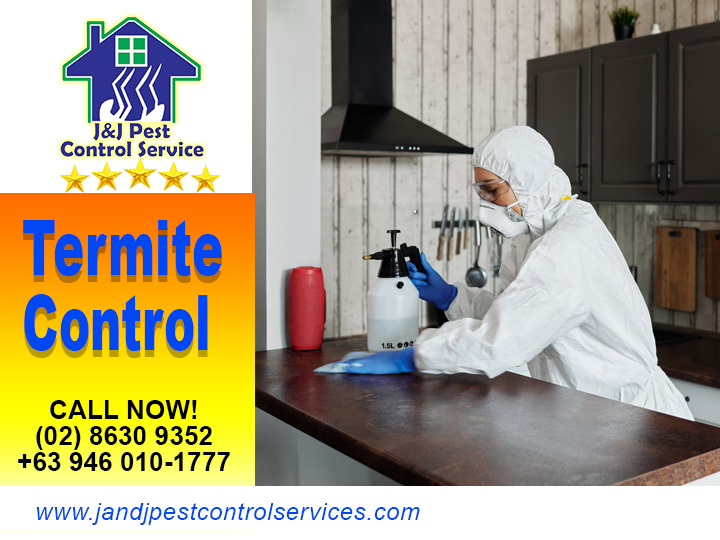 Hollow Wood
Termites are attracted to dark and humid areas which is why they seldom feed upon outer timber.

This makes them hard to find and usually you find them when they have done big damages already and sometimes irreversible damages. Try tapping on your timber and if you hear a hollow sound, you have a termite issue that you need to fix. To be sure, you can make use of a screwdriver and try to press it into your timber. If the wood gives quickly, you should call your termite firm as soon as possible.
Peeling Paint
Once termites consume your drywall, moisture will go into the area which causes your paint to bubble or peel.

Although bubbling and peeling paint may occur due to other factors, it's much better to check things out to recognize if termites are the cause of the trouble.
Termite Droppings
Just like other pests that attack our homes, termites leave droppings which usually appear like timber shavings.

You can spot them near window sills or much less frequented areas like cellars and attic rooms.
Live Termites
Seeing live termites is a sure sign that you have an issue. As long as you do not mistake them for flying ants, you must contact your pest control company at once and request an inspection.
An experienced termite control company understands how to locate entry factors, identify nests and create a long term treatment strategy that can save your property. They can also ensure that you will be protected from future invasions.

J&J Pest Control Service for all Your Termite Control Service Manila City, MM Needs Disregarding termites in your home or company can endanger the architectural stability of your property. If you think that you have termites of any variety discussed above, give us a call at once. Prevent losing your valuable investment by acting and getting rid of these pests immediately.
At J&J Pest Control Services understand that every termite control scenario is not the same every time. We recognize your particular situation before we create the best solution to solve the infestation. Allow us take care of your problem quickly and efficiently. We assure excellent service and fast outcomes.

If you want a termite-free environment and appreciate healthy and cleaner surroundings, book an appointment today. Make use of our termite control Manila City, MM services and save your home from more damage today.
Give us a call (02) 8630 9352 or send us a message on our site.